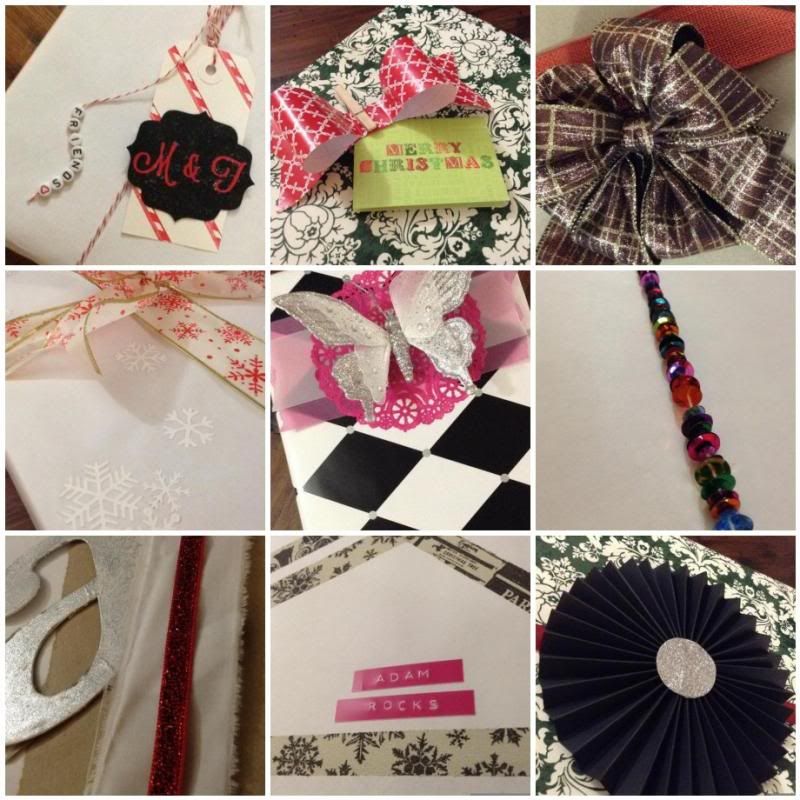 I have a great time wrapping gifts. The best part is that I didn't buy a single thing this year for wrapping - everything I already had on hand. I even took pictures of what I did this year because I had so much fun. Thanks Pinterest for all of your inspiration!
This bow was tied using these instructions - something I've been wanting to try for a long time! It's super easy!
Sparkles!
Awkwardly wrapped mug! Gotta have one of those mixed in with the pretty.
I cut these snowflake shapes out on my Silhouette and mod podged them onto the white paper.


I had to take this picture in a hurry, so I just took it on top of my Fiskar's cutter!
Simple.
I was excited about this pink tape for my Dymo label maker. However, it sucks and doesn't stick at all.
I love this one! I cut out a 12x12 pinwheel out if my Silhouette and attached it with a brad.
For the white elephant winner!
I just love this bow. So big and fluffy.
For Jerrod! That was a lot of ribbon.
I love my medallions!
Paper bow cut out of wrapping paper from my Silhouette.
Friends <3 for Matt and Tanya
Something fun for Matt and Tanya's kiddo, Leila.
Definitely my favorite. The butterfly is an ornament, and I colored the doily with Tim Holtz' Distress Stain
Those pinecones and cinnamon sticks smell so good.
Another favorite. Simple. The kraft pattern running up was cut from my Silhouette.
Another paper bow from my Silhouette.
It looks wonky in the photo, but it looked pretty in real life.
It's a lunch bag tied with leftover duck canvas cloth.
----------------------------
Adam thinks I'm hilarious because I like to save ribbon. Pfft!
And my photo bomber!