My mother's birthday was on the 1st of November and I still haven't gotten to the post office to mail her gift. Now I've decided I might as well wait until my niece's gift arrives that I ordered for her birthday, so I can ship both gifts at the same time to save myself a trip. Because, you know, going to the post office is SUCH a bother. ....
Even though she may read this (chances are low), I didn't want to wait any longer to share the gift I made her.
I'm sure you've seen this; it's been all over Pinterest since Pinterest existed. Even though it's almost cliche now, I don't care. I had a ton of fun making it, failing at it, and then completely surprised and how awesome it turned out.
Behold:
52 Reasons I Love You
(and then some):
Even though I could've purchased this awesome deck of cards:
I feel a gift is special when I make it; when I put my personal signature on it. If I purchased this (awesome) deck of cards, it still would've been neat, and maybe it would've been cooler looking, but I would've wondered what I could've made myself. Could I do it? Would I try a few techniques and fail and give up?
I don't have to ask myself that. I made it. I had some major fails, some errors, and I even had to purchase another set of cards to replace some ruined ones, but I did it. I had fun! AND I like the end result :)
Rule number one: never follow internet instructions regarding how to age playing cards because none of them are good and every one of them completely ruined the cards. Most of the cards got completely stripped of all color and some backs got separated from the front. I should've taken a few pictures and submitted it to
Pintrosity
.
Through trial and error, I found a great method, which consisted of an arduous 7-step process of aging the cards, and then a 5-step process in aging and typing and adhering the reasons. It seemed like it was going to be a fast and easy project, but I made it much more time consuming than it probably should've been!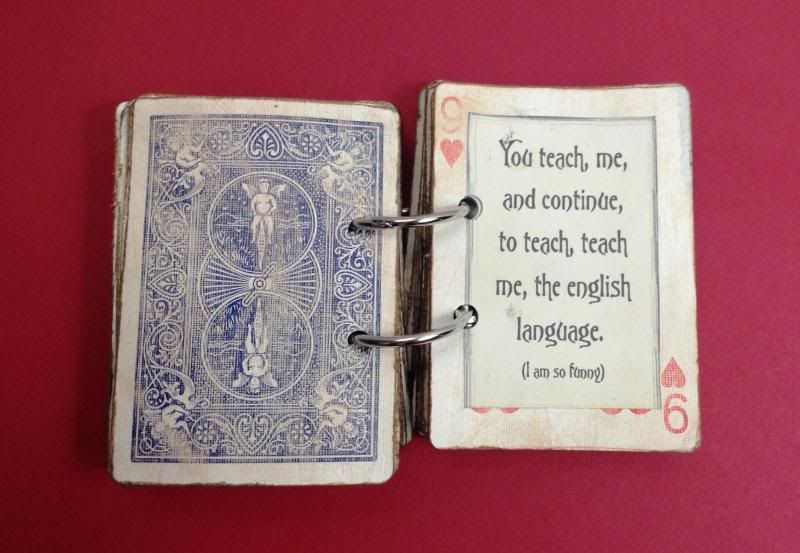 I am so funny :)
-----
UPDATE: March 4, 2014
-----
My husband and I are adopting (!!!), and we are doing anything and everything to raise the $14(ish) grand.
In said effort, I am offering to make you a deck of cards, with the promise that every penny you give me will go directly to the adoption agency.
Note that I am not trying to *steal* Ms. McNabb's idea. I'm just doing whatever I can to get a baby in my arms! I give full props to Lowri for her creativity. I didn't use Lowri's template which she sells on her website. Everything here I did myself, with the inspiration from the lovely Lowri McNabb.
If you would like to take a gander at the many other styles and decks that I've done for others,
and to see about helping me out yourself by letting me make you a deck,
please visit our
"Rathsack Adoption Option" blog
and/or
my Etsy shop
!
Sneak Peek:
Love, puppies, kittens, and babies,
T