The Big Effect. Affect. Whichever one it is. Pretty sure it's Effect.
I'm really behind in work, but I'm just so excited about the progress at home that I just have to take a minute to post a picture: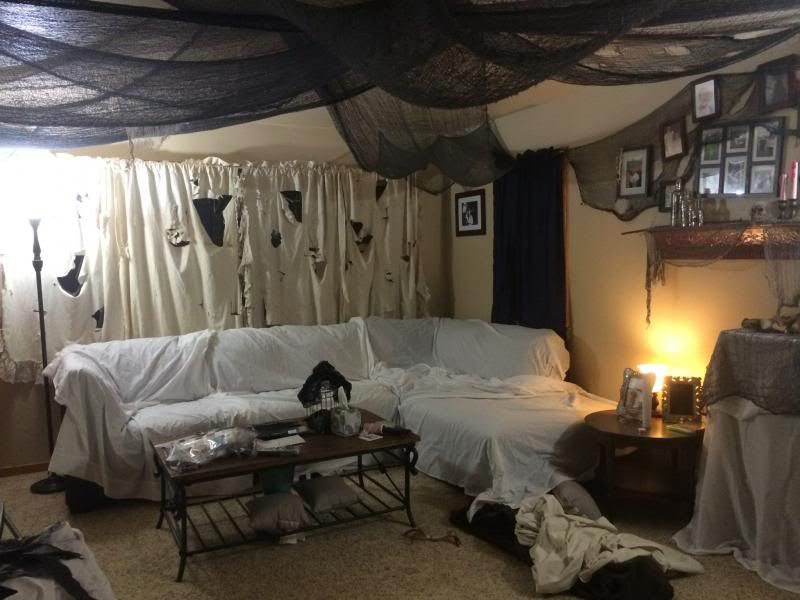 The living room. Minus the mess on the coffee table, the mess on the floor, and a few other things, I am done! I have a white cloth to put over the coffee table and the side table, another curtain to hang in place of the blue one, and some spider webs around the place, but the most time consuming and hardest parts are complete!
This year I planned to focus on "The Big Effect". I wanted to do a small amount of work that would produce big results. So much for "small amount of work", but I think this "big effect" is pretty much there.
Rather than just have a few pumpkins lying around to call it a Halloween party, that's right, this girl goes all the freak out. And I love it.
I told Adam that all I want (other than for people to have a ton of fun) is for everyone to say how cool just ONE thing is. Just say "hey, cool party", or "hey, this eyeball Oreo truffle is amazing", or "hey, I'm not touching those chocolate intestines... they look disgusting", or "hey, these games are fun", or "hey, this photo booth is radical", or "hey, you're the bomb". Preferably all of them, but I just want a compliment. I know I'll get them from Erin and myself, but I hope everyone else thinks it's cool! I love to share my love for crafts and for stealing other people's creative ideas (thank you, Pinterest!).
Hopefully everything goes as planned. I pick up Erin from the airport tomorrow evening around 6, so by the time we get home (around 7) we will have time still to do something a little fun.
On tonight's agenda: Blood Sample Lollipops with Adam and dead trees with Adam. Adam said he's going to try to splice the speaker wire that I have, put the wires in banana plugs, and hook up the fancy speakers I got from my first boyfriend when I was 15! Wow, that was 11 years ago. Those are old speakers for having almost never been used...